While everyone may experience the issues mentioned in this article, please note that as part of our initiative responding to the APA Guidelines for Psychological Practice with Boys and Men (2018), these articles will focus on how these topics affect men and boys. We use "men" to refer to people who identify as men.
Gender alone does not determine whether or not someone can experience depression, as everyone can face depression or mental illness.
Signs of depression, however, may vary drastically specifically between men and women. Men are more likely to openly display anger and aggression rather than sadness, and family members and friends may not realize that this can be a symptom of depression.
After first giving an overview of depression in men, we're going to examine five major depression symptoms commonly found in men: overindulging in escapism, medical issues, substance use disorder, irritability, and risky behaviors.
Depression In Men Versus Women
Depression can be seen as two-pronged: there are signs and symptoms, and then there are coping mechanisms and other depression-influenced behaviors.
Men and women can show different signs and symptoms as well as different coping mechanisms. Depression in men is more often undiagnosed because the depression isn't recognized, signs and symptoms are downplayed, there's a reluctance to talk about the symptoms, and overall resistance to mental health treatment.
Men and women often share these common symptoms of depression:
Extreme fatigue
Difficulty sleeping or oversleeping
Difficulty enjoying activities that are usually pleasurable
Feelings of sadness, emptiness, or hopelessness
On the other hand, men may experience certain problems or engage in certain problematic behaviors that could indicate depression but aren't typically recognized as such:
Overindulging in escapism
Medical issues
Substance use disorder
Irritability
Risky behaviors
Depression can be particularly dangerous with men because many of us don't want to recognize that we may need help, largely because traditional masculinity ideology encourages us to limit the expression of our emotions, particularly those linked to depression. This likely factors into why women are statistically twice as likely as men to be diagnosed with depression.
Now, let's look more closely at some of the most common depression symptoms in men.
Common Depression Symptoms In Men
There are many possible depression symptoms, and some of them are found in both men and women. Here are the most common depression symptoms that men, in particular, tend to exhibit.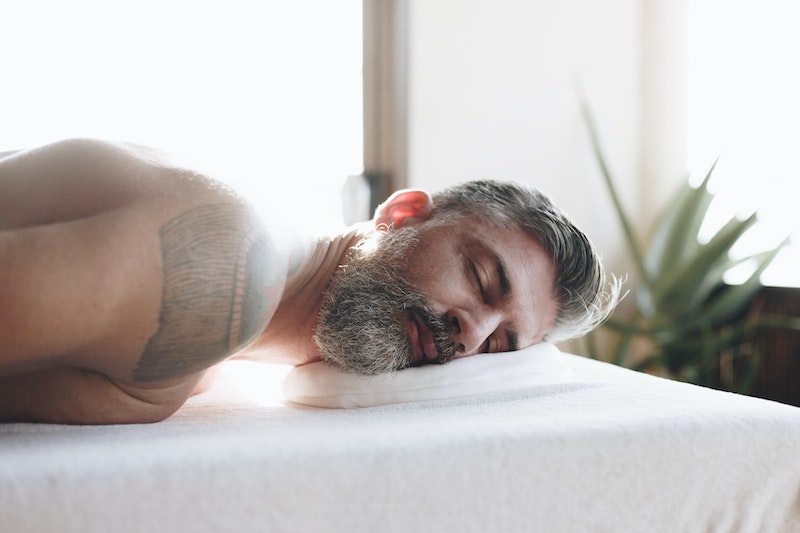 Escapist Behaviors
We may not realize it, but overindulgence in escapist behaviors often signals a desire to escape from reality and our depression.
These behaviors can vary widely but involve an unhealthy or unsustainable amount of time and money. Some escapist behaviors common among depressed men include pornography, video games, working out, gambling and sports betting, watching sports, and binge-watching shows or films.
Medical Problems
Severe stress can indicate depression and wreaks havoc not only mentally but physically too. Men struggling with stress and depression might experience headaches, gastrointestinal issues, and other ailments. Other physical manifestations of depression in men may include sudden or significant weight loss or gain, fatigue, and a racing heartbeat.
Substance Use Disorder
Men may turn to alcohol or other drugs to cope with their depressive symptoms. Curiously, this is less likely to be viewed as a sign of depression in men than women.
Whereas women are more likely to experience substance use disorder once they are already depressed, men often experience this leading up to the onset of depression, meaning that substance use disorder might contribute to the likelihood of depression in men.
Irritability
Women are more likely to show overt sadness and are usually more willing to discuss their emotions than men. While men with depression may open up and discuss their depression symptoms, they're more likely to display depression-related behaviors and traits, including anger and a short temper.
Unfortunately, displays of anger and irritability are more socially accepted among men than women, meaning that people (including medical professionals) may fail to recognize such behaviors as indicative of depression in men.
Risky Behaviors
Along with substance use disorder, depressed men are generally more likely to engage in risky behaviors than depressed women, including dangerous driving, binge drinking, unprotected sex, and gambling, as well as other risky financial behaviors.
Men often use these behaviors as a shield to mask or distract from their depression, and it can thus be more difficult to view them as depression-specific symptoms.
Combatting Depression
There are several ways to fight depression—and you can find a substantial list below in the FAQ section—but perhaps the two most powerful ways are consulting with a professional and getting physical exercise.
When you meet with a professional, you have your own dedicated space to strengthen your health and ensure your needs are getting met.
Often, men discuss needing to be strong or stoic for their partners, families, etc., and being unable to voice their needs because doing so would take up space. That's why setting up time and a dedicated space for yourself to take control of your health is key.
It can take a lot of strength to step up and consult with a professional; if you're not ready yet, getting physical exercise can help.
Regular exercise helps boost the feel-good chemicals endorphins and serotonin, which are the brain chemicals commonly targeted by several types of antidepressant drugs.
Many men report a significant improvement in their health after meeting with the professionals at Sawa.
"Utterly phenomenal, without this man, I would be in a significantly worse place; I was able to face my fears, get the girl, all while overcoming depression and anxiety issues. Not a cure-all pill, required a lot of work, but his capabilities, friendliness, and approachability can't be beaten!"
"Jonathan is outstanding. When I first started with BH, I was honestly a little skeptical at how effecting counseling through my iPhone would be, especially at such a great value. That skepticism immediately vanished when I first connected with Jonathan; the man is World Class! He has offered me guidance and coaching that has expanded into multiple aspects of my life, enabling me to grow as a person tremendously. I can not say enough great things about BH and Jonathan Meza!!"
Wrapping Up
We hope this overview of depression symptoms in men and how they differ from women has been useful.
Source: BetterHelp